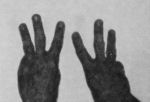 Feel free to use any of the following six methods to read this.
You can go to the original blog post and read it.
You can read it through a subscribed RSS feed.
Somebody can repost it and you read it there instead.
Somebody can email it to you and you read it.
Somebody can print it, hand it to you and you read it.
Someone can carve the words into stone, erect a giant tablet, and you can physically go there and read it.
It seemed like everything about social media is now being enumerated in blog posts, yet somehow this important issue had been missed.